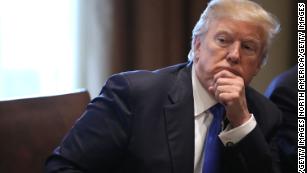 President Donald Trump's reported derogatory remarks about Haiti and slur against immigrants from "shithole" countries in Africa sent shockwaves around the world, simultaneously becoming a diplomatic issue that could damage America's global image and complicating an immigration reform effort at home.
Shock and outrage greeted Trump's remarks in a meeting with lawmakers on immigration reform on Thursday. Several countries called in US ambassadors for an explanation and to remonstrate with them over the President's language.
Lawmakers expressed disappointment and disgust, with one declaring the comments counter to the very "essence of American patriotism." Even as Trump's comments provided fodder for late night comics, they raised questions about whether he has now made it harder for lawmakers to find a compromise to achieve immigration reform.
Critics in the US and abroad noted that Trump's sentiment cut against the idea of the United States as a nation of immigrants and the foundational view that the content of person's character is more important than their origin or the color of their skin.
Many of those who criticized Trump said his remarks would damage America's global reputation.
Sen. Lindsey Graham, a South Carolina Republican who has maintained a close relationship with Trump while at times being critical, was at the meeting Thursday.
"Following comments by the President, I said my piece directly to him yesterday," Graham said. "The President and all those attending the meeting know what I said and how I feel. I've always believed that America is an idea, not defined by its people but by its ideals."
"E Pluribus Unum"
"The American ideal is embraced by people all over the globe," Graham continued. "It was best said a long time ago, E Pluribus Unum — Out of Many, One. Diversity has always been our strength, not our weakness. In reforming immigration we cannot lose these American Ideals."
Republican Sen. John McCain of Arizona said in a statement that "respect for the God-given dignity of every human being, no matter their race, ethnicity or other circumstances of their birth, is the essence of American patriotism."
"To believe otherwise is to oppose the very idea of America," he said. "People have come to this country from everywhere, and people from everywhere have made America great. Our immigration policy should reflect that truth, and our elected officials, including our President, should respect it."
A source briefed on the Oval Office meeting Thursday confirmed that during the meeting on immigration legislation, Trump asked, "Why do we want all these people from shithole countries coming here?"