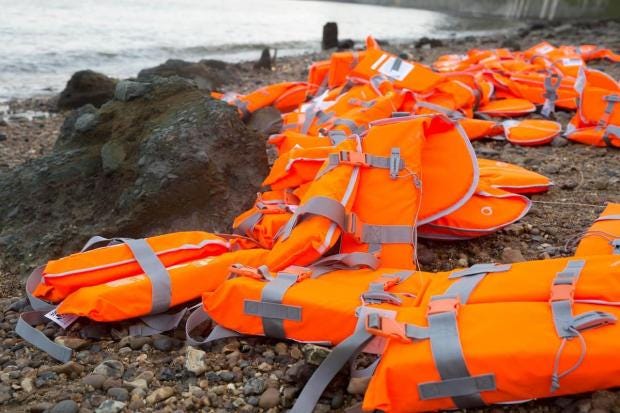 Amnesty International has accused the UK of shirking its responsibilities towards refugees and has called on the Home Secretary to rethink Britain's response to the migrant crisis.
Ten countries, accounting for just 2.5 per cent of global GDP, are sheltering 56 per cent of the world's 21 million refugees, according to a report published on Tuesday.
The rights group criticised the wealthiest countries for showing "a near absence of leadership and responsibility" while the refugee crisis escalates.
It said the UK hosts less than one per cent of the world's refugees and called on Home Secretary Amber Rudd to rethink aspects of the UK's response, which it said were having a "disastrous" impact on refugees in the UK and abroad.
The report highlights the contrast in the number of refugees from Syria taken by its neighbours and by other countries with similar populations.
The UK has taken fewer than 8,000 Syrian refugees since the country's civil war began in 2011, while Jordan, which has a population almost 10 times smaller than the UK and just 1.2 per cent of its GDP, hosts more than 655,000 Syrian refugees.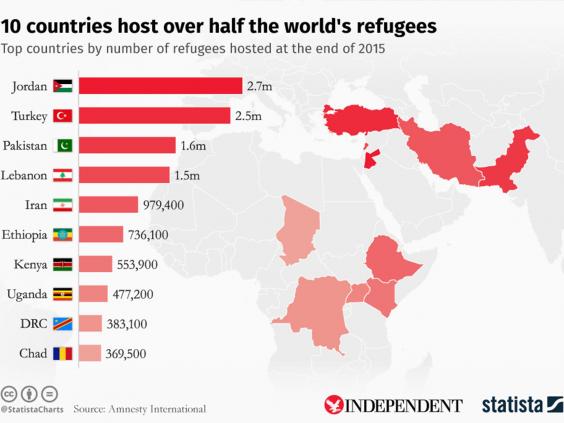 Turkey has taken more than 2.5 million, Pakistan 1.6 million, and Lebanon has taken in more than 1.5 million, as the chart byStatista shows.
The remaining six nations were Iran, Ethiopia, Kenya, Uganda, Democratic Republic of Congo and Chad.
Refugees welcome here: Protesters demand UK resettle more migrants in response to refugee crisis
Kate Allen, director of Amnesty UK, said: "The new Home Secretary must reassess the disastrous impact the UK's refusal to share responsibility for refugees is having both domestically and internationally. The whole system needs a compassion overhaul.
"It's disgraceful that the UK hosts less than one per cent of the world's refugees when our size and prosperity mean we should do so much more. Desperate families are forced into the hands of traffickers precisely because countries like ours have pulled up the drawbridge. Smaller, poorer neighbouring countries are left to try and cope, and when they can't, more people are forced to try to move on, seeking a basic level of safety.
"Amber Rudd should start by allowing refugees with relatives already in the UK to be reunited with each other here. Women, men and children are sleeping in tents in the mud across the world, desperate for any opportunity to join parents, siblings and other family in the UK."
Amnesty has called on all countries to take a fair proportion of the world's refugees based on criteria such as wealth, population and unemployment.
The rights group singled out Canada, which has taken in nearly 30,000 Syrian refugees since November 2015, as an example of how countries can resettle large numbers of refugees.
A Government spokesperson said: "We are committed to resettling vulnerable refugees directly from the region to ensure we target our help at those most in need, deterring people from attempting perilous journeys and preventing criminal gangs from profiting from human trafficking.
"We have committed to resettling 20,000 Syrian refugees through our Vulnerable Persons Resettlement Scheme over the course of this parliament and we are on track to achieve this.
"We will also bring 3,000 individuals to the UK from the Middle East and North Africa over the same period under the Vulnerable Children's Resettlement Scheme.
"This Government remains at the forefront of the international response to the humanitarian crisis in Syria and the region, having pledged more than £2.3 billion in aid and providing nearly £70 million in response to the Mediterranean migration crisis."
[Source:-Independent]