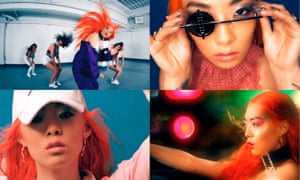 On Ordinary Superstar, a track from her self-titled mini-album, Rina Sawayama imagines what it is like to be a famous vlogger, "so far removed from who you really are". It is just one example of the way that the rising pop star, who has another track called Cyber Stockholm Syndrome, prods our perma-connected culture. True to her lyrics, when we meet for a morning coffee near her home in south London, she puts her phone into airplane mode straight away.
"I'm very strict about that," she says emphatically. "When I'm with someone, the phone is fucking off. There have been so many studies about what phones do in a social situation, even ones that have the screen facing up, but they're off – it changes the depth of the conversation." She laughs and glances down at my own phone, set to record.
However, the singer's relationship with technology is far from clear cut. "You know how some people take drugs to get inspired? I'll just spend a ton of time on social media, see how anxious I get, then write about it," she says. Despite this, a Rina Sawayama song sounds how the internet feels in 2018: a nostalgic pick-and-mix of Max Martin's 90s hits, 00s dance-pop, 80s synths and even anime theme-tune-worthy rock. The overall effect is somewhere between Mariah Carey and PC Music. One of her most striking tracks, Tunnel Vision, embodies all of this contradiction: a duet with US pop rebel Shamir about social isolation, it was created via email. And then there's her Tumblr-come-alive look: today, she's a luminous flash of tangerine hair, baby pink camo hoodie and glittering diamante choker.
Sawayama's embrace of both the internet and its ills might seem a little strange at first, but hers has been a life spent defying expectations. The warm but laser-focused 27-year-old was raised by a Japanese single mother in north London. She attended a specialist performing arts school as a teenager, where she embraced the likes of Slave 4 U-era Britney, Beyoncé and J-Lo, as well as prominent J-Popartists such as Namie Amuro and Ayumi Hamasaki. Parental expectations, and her own obvious intelligence, meant Sawayama didn't go straight into music, though.