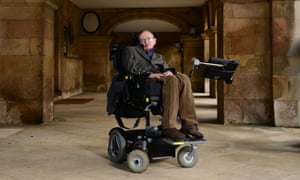 From astronauts to world leaders, tributes have poured in for Stephen Hawking, the modern British physicist and author who has died aged 76.
Theresa May described him as "brilliant and extraordinary", adding that his "courage, humour, determination to get the most from life was an inspiration".Jeremy Corbyn, the Labour leader, said Hawking "inspired the world" but also praised the way he had campaigned for the NHS.The health secretary, Jeremy Hunt, with whom Hawking repeatedly clashed over funding and reforms to the NHS, tweeted that his adversary was a "defining force in the world of science". He added: "We didn't agree on everything, but he was still a hero to me as one of our greatest ever thinkers."Tim Peake, who spent more than six months in space in 2016, said Hawking had inspired generations to "look beyond our own blue planet and expand our understanding of the universe".Nasa also tweeted that: "His theories unlocked the universe of possibilities that we & the world are exploring. … May you keep flying like superman in microgravity."
India's prime minister, Narendra Modi, said Hawking's "grit and tenacity inspired people all over the world".Donald Tusk, president of the European council, quoted one of Hawking's most memorable remarks about how, despite having motor neurone disease, he did not give up.
The shadow chancellor, John McDonnell, was one of many to highlight Hawking's sense of humour. "It's sad to lose him but what a memory we will have of him," he told ITV's Good Morning Britain on Wednesday.