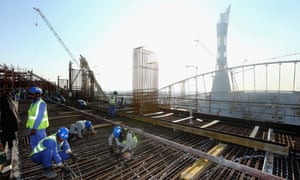 High-spending World Cup 2022 hosts Qatar are laying out almost $500m every week on major infrastructure projects for football's biggest tournament, the country's finance minister said.
That eye-watering level of spending could continue until 2021, Ali Shareef Al-Emadi said on Tuesday.
"We are spending close to $500m per week on capital projects," he told journalists.
"And this will carry on for the next three to four years to achieve our goal and objective of really getting the country ready for 2022."
More than $200bn (€187bn) will be spent in total by the gas-rich Emirate in preparation for 2022.
Emadi said this figure covered not only stadiums but huge and costly projects such as roads, a new airport and hospitals.
"90% of the 2022 contracts have already been awarded," added Emadi.
"That doesn't mean the stadiums only, we are talking about highways, rail, ports, airports, those are really underway, even hospitals and everything."
He added: "We are really giving ourselves a good chance of delivering things on time and we don't want to get in a place that we start painting while people are coming to the country."
Asked if this would make Qatar's tournament the most expensive World Cup ever, the minister said no.
"We are putting $200bn in terms of infrastructure… If you look at stand alone, the World Cup, no it is not."