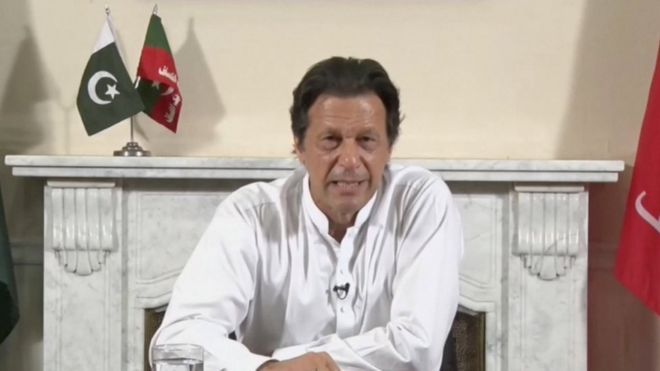 In a television address, he said: "We were successful and we were given a mandate."
His PTI party is still expected to fall short of an overall majority and to seek coalition partners.
Campaigning has been marred by violence. On voting day a bomb killed 31 people at a polling station.
Mr Khan, the charismatic patrician who captained Pakistan to a World Cup victory in 1992, has long shed his celebrity playboy image and has recently faced accusations that his election challenge was benefiting from military interference in the nuclear-armed republic.
An official confirmation of the vote is still to come.
Can Imran Khan change Pakistan?
Why Pakistan's election matters
The party of disgraced former Prime Minister Nawaz Sharif has rejected the results, as have a host of smaller parties, all alleging vote-rigging and manipulation.
The election has been seen as a contest between Mr Khan's PTI party and Mr Sharif's PML-N, with the party of assassinated former Prime Minister Benazir Bhutto, the historically liberal PPP, widely expected to come third.
In his address, Mr Khan said: "I think this has been the clearest, fairest election Pakistan has ever had." He added that he would investigate any claims to the contrary.
He also appealed to his rivals to join hands with him to develop Pakistan. And he vowed to hold talks with India to seek a resolution to the dispute over the Kashmir region, a key flashpoint between the nuclear-armed countries.
He also called for "mutually beneficial" ties with the United States, despite being an outspoken critic of that country's anti-terrorism measures in the region, such as drone strikes.
What are the latest figures?
Figures from the Electoral Commission show Mr Khan's Pakistan Tehreek-i-Insaf (PTI) party has 98 of the 272 National Assembly constituencies being contested.
Earlier, unofficial projections from Pakistan's Dawn Newspaper reported the PTI on 120.
A total of 137 seats is required for a majority.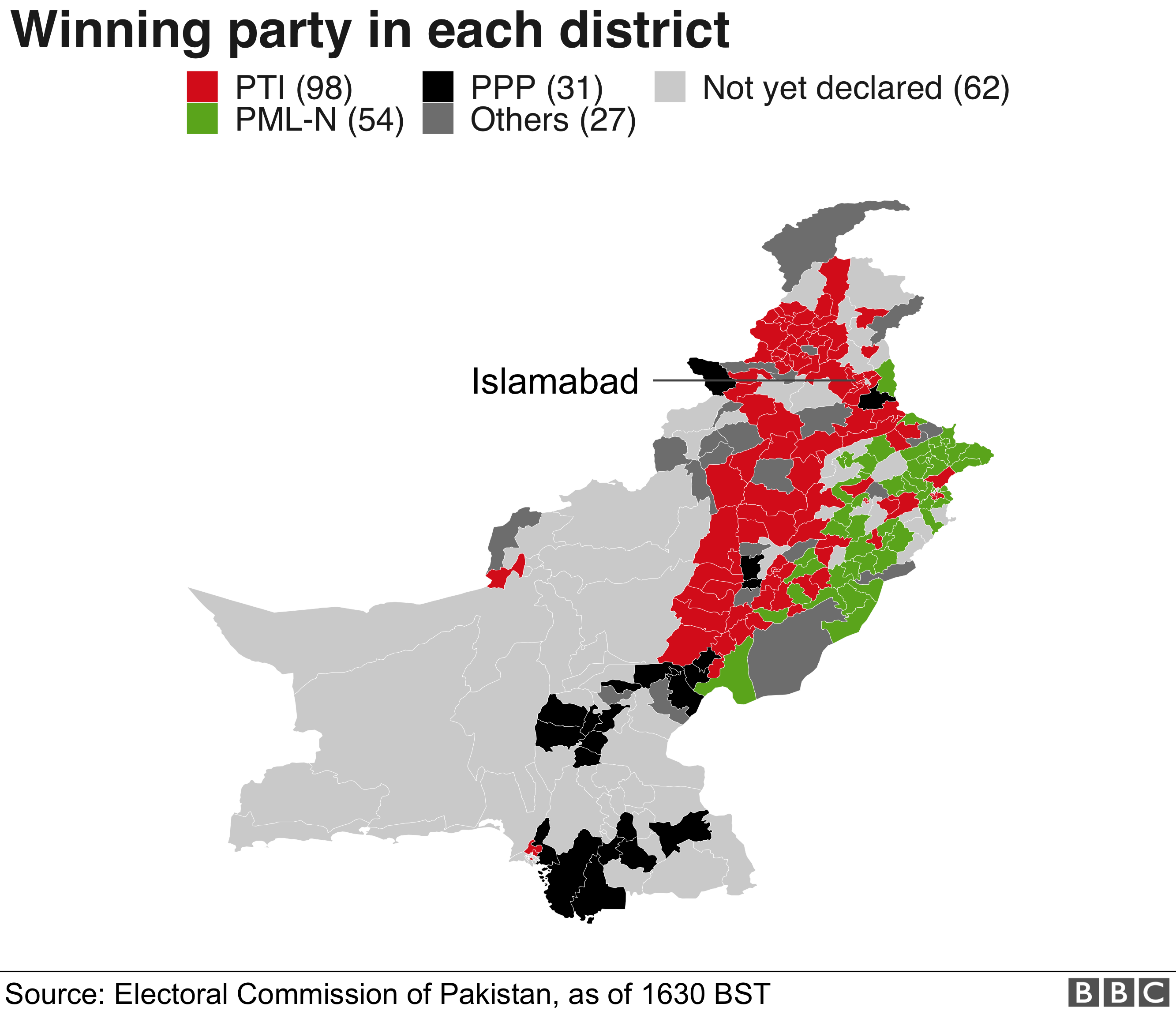 This election will mark only the second time that a civilian government has handed power to another after serving a full term in Pakistan.
The turnout has been estimated at between 50% and 55% out of 106 million registered voters, AFP reports.
On Thursday, Dawn said the Human Rights Commission of Pakistan (HRCP) had raised questions over the voting process. "The commission received complaints that in many areas women were not allowed to vote," the newspaper reported.
Who are the other main players?
Mr Sharif, who won the last election, is in jail after a scandal stemming from the Panama Papers leak, but remained a looming figure in this election.
He appointed his brother, Shahbaz Sharif, as head of the PML-N, to run in his absence.
Nawaz Sharif: Pakistan's three-time PM
Bilawal Bhutto Zardari: Heir to a political dynasty
Bilawal Bhutto Zardari, a 29-year-old son of former Prime Minister Benazir Bhutto, ran for the PPP, after becoming party chairman when he was still a student at Oxford University in the UK.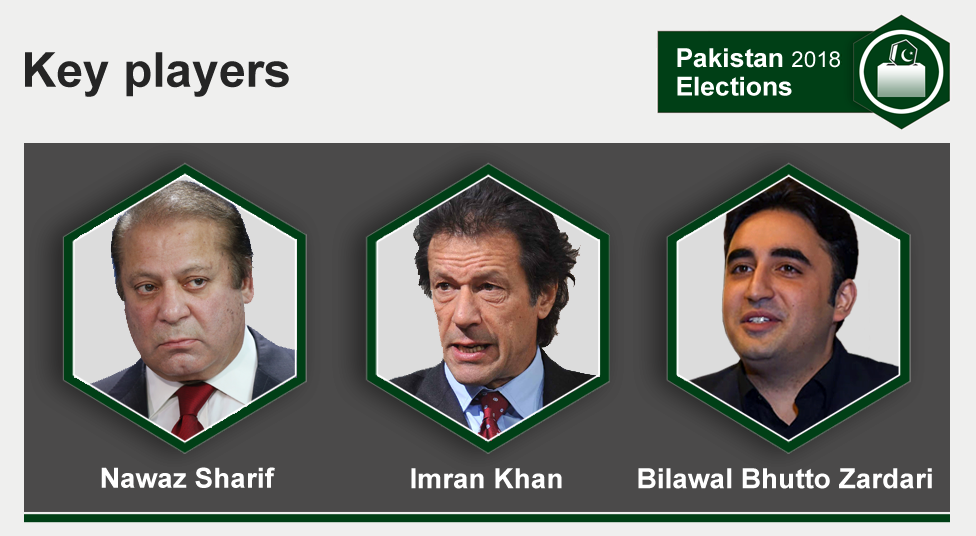 Who is Imran Khan?
Mr Khan, who first entered politics in 1996 but struggled for years on the political sidelines, now styles himself as a pious, populist, anti-poverty reformer.
"God has given me a chance to come to power to implement that ideology, which I started 22 years ago," he said in his speech.
He also said he would not live in the prime minister's usual grand residence. "Whatever the ruling elite has been doing in Pakistan so far with the taxpayers' money, I'm promising you today I will change all of that."
The cricket hero turned politician
The 65-year-old campaigned on a message of anti-corruption and vowed to take on Pakistan's entrenched political dynasties.
But his views on Islamist militancy will be scrutinised if he becomes prime minister – he has criticised some of the Taliban's violence but last year his party's government in Khyber Pakhtunkhwa province gave $3m (£2.3m) to the notorious Haqqania madrassa, headed by a man known as the "father of the Taliban".