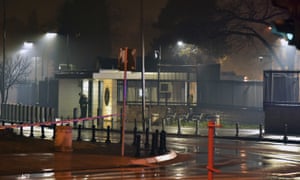 An unknown man threw a grenade at the US embassy in Podgorica, the capital of Montenegro, before blowing himself up with a second device, government officials have said.
The attack happened just before midnight on Wednesday, with people in the area hearing two explosions. No one else was hurt and there was no major damage.
"There was an incident," a police official, who declined to give his name, told Reuters. He did not provide details.
A Reuters photographer in Podgorica said a police vehicle blocked the street where the embassy is located, adding that no damage was visible.
The embassy warned US citizens to stay away until further notice. "The US embassy in Podgorica advises US citizens there is an active security situation at the US embassy in Podgorica," it said on its website. "Avoid the embassy until further notice."
Montenegro, the smallest of all former Yugoslav republics, joined Nato in May last year, the 29th country to do so. The US established diplomatic ties with the tiny Balkan state in 2006 after it split from Serbia.
source:-.theguardian.