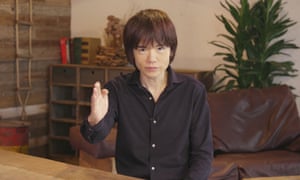 Masahiro Sakurai is 48 years old, but looks almost ageless. In his face, you can see the prodigious teenager he once was. Sakurai was 19 when he directed his first game, Kirby's Dream Land, at HAL Laboratory, a Tokyo developer that made a string of excellent games for Nintendo's consoles in the 90s. His parents were perplexed; in their generation, video games didn't exist. "They never supported me actively, there was a lot of uncertainty and fear," he recalls. "That said, after I worked on the Kirby games, I noticed that all of a sudden my parents had Kirby paraphernalia hanging around the house."
At his own company, Sora Ltd, Sakurai is now the director and public face of Smash Bros, Nintendo's chaotic fighting game that features characters from throughout its 35-plus-year history alongside special guests from elsewhere in the gaming world, such as Final Fantasy's Cloud, Sonic and Metal Gear Solid's Snake. He is a calm presence in Nintendo Direct broadcasts, which deliver a drip-feed of information to fans, going into almost comically deep detail on characters' moves and animations and occasionally betraying a deadpan sense of humour.
The next iteration, Smash Bros Ultimate, will be released for the Nintendo Switch in December, and attempts the daunting task of bringing together all of the 60-plus characters that have ever appeared in the series: an idea that Sakurai says was met with dead silence when he announced it to the development team.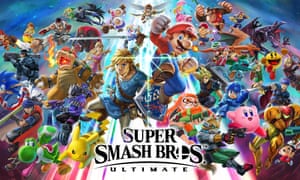 You will rarely meet a more enthusiastic student of video games than Sakurai. Developers, especially if they have been making games a long time, often end up with tunnel vision, playing little outside their own sphere. But Sakurai plays everything. He writes an entertaining column for Japan's weekly gaming magazine Famitsu. His Tokyo home is stuffed with video games from all eras: "I have so many that I can't even think about displaying them," he says with a laugh. "Nowadays I try to go for download versions, to not take up as much space … one of the biggest challenges of living in Tokyo is not having space to do anything."
Sakurai's interest in games began, as it does for most of us, in childhood, but it really took hold while he was studying industrial design at school. "I was striving to become an engineer, but something happened that made me think, maybe I can make games instead," he says. "There was a two-year-period in school where I would do a part-time job to make enough money to buy games, that I would play to research.
"I went out of my way to play games I didn't like or find interesting. Those ended up being a lot more informative for me. At home I have literally thousands of games, and I think of them as pearls of wisdom from my predecessors. Game development is very difficult. Nobody sets out to create a game that's not fun. It's all of the challenges and difficulties that happen throughout development that determine whether a game is a failure or a success. I think playing those thousands of games is the single best and easiest way to learn from my predecessors."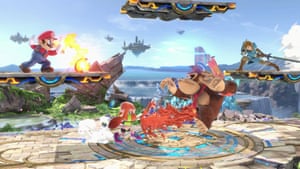 sourcE:-theguardian