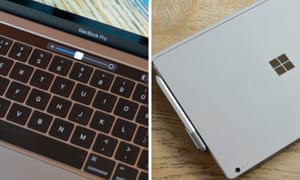 I had a similar experience with the ability to use the touchscreen while the Surface Book was in laptop mode. I simply didn't do it much, and most of the time when I did, it was just to see if I could.
Occasionally, the touchscreen was actively bad. My first time opening Windows Mail, I was greeted with a helpful popover showing that I could swipe mails to the left to archive them. But I couldn't work out how: click and drag? Two-fingered swipe on the touchpad? The answer, of course, is to reach up to the screen, and swipe that way. A shortcut it is not, particularly if the screen is up on a dock and you're already using a keyboard and mouse.
Incidentally, unlike many hybrid laptops, the base isn't just a keyboard: it also contains a second battery, and a number of hardware components including a discrete GPU. (One downside of that setup: if you let the screen run out of battery while undocked, you can't re-dock it until you've charged it separately, even if the base still has some power left).
PCs are from Mars
If this sounds like a long list of nitpicks, it's because … well, it is. For all the existential battles that have been fought over Windows versus Mac, there's little to distinguish the two on any important level. The platforms have converged on everything but aesthetics and personal preferences. Both have a locked-down store which power users ignore; both are fighting for relevance in a world of web apps and mobile-first design; both feel the weight of versions past sitting on their shoulders.
If you asked me to explain why, despite it all, I've put my money down for a MacBook Pro rather than buying the Surface Book from Microsoft (which loaned the device for this trial), I can give you some reasons that feel solid enough for me.
I was shocked by the amount of advertising and cross-promotion riddled throughout the OS, from adverts for apps in the start menu, to a persistent pop-up offering a free trial of Office 365.
I was surprised by the paucity of solid third-party apps in general, and particularly by the lack of any good consumer productivity suite. When the most common recommendation, for services from photo storage to calendaring, is "just use Google's web apps", there's a hole waiting to be filled (though maybe that's just my dislike of web apps in general). It feels like the Mac dev scene is full of teams making fully featured apps that compete with the big companies, while Windows devs are more content to make niche utilities which serve particular needs without needing to start a war.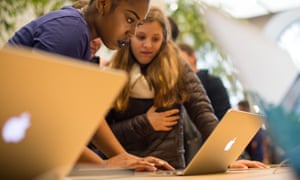 I disliked the lack of a smart sleep mode, meaning my computer would often be flat when I opened it up in the morning because some utility had been running in the background.
I hated the difficulty in typing special characters, from foreign accents to ellipses and em-dashes. I hated the lack of a universal paste-as-plain-text shortcut, and I mourned the loss of iMessage access on the desktop for texting my girlfriend.
Most of all, though, I couldn't stand the small irritations, from the failure of Chrome windows to correctly adapt when dragged from a high-res screen to a low-res one, to the trackpad's inability to accurately click when I used it with my thumb rather than my finger.
I don't pretend that those irritations are unique to Windows, or even that they aren't things I couldn't have fixed with time, effort or re-education. But the problem is, fixing them isn't worth it: the difference just isn't there.
That's true whichever way you're thinking of switching. If you're a Windows user nodding along with my problems, I can guarantee you that within a month of switching to Mac, you'll have a list just as long. Maybe one day, one or other platform will have a commanding lead. For some use-cases, that's already happened: gamers have Windows, while iOS developers have Mac, to state two obvious examples. But for now, for the vast majority, it's hard to say there's anything in it.
Except, of course, for price.
Because these problems are minor, and a price difference of up to £1,000 isn't. The Surface Book is around the same price as the new MacBook Pro, but many other high-quality laptops aren't: you'll easily find models like Dell's XPS range or Lenovo's Thinkpads for hundreds of pounds less than a comparably-specced MacBook.
For me, with four years of saving for a new Mac, good credit, and risk-aversion to digital irritation, it's worth paying through the nose to stick with what I know. But it might not be the case for you.
Switching isn't a panacea, and there's no silver bullet out there – no Windows computer that will be anything better than a bit annoying for former Mac users – but before you get too complacent, I have a feeling the same is true the other way round. Ultimately, the question comes down to how much you're prepared to pay to keep things the same as they have been. For me, it turns out that figure's quite high.
[Source:-The Gurdian]