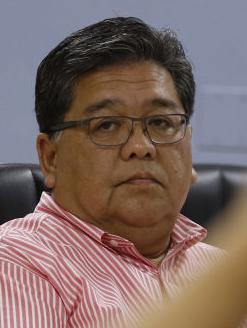 Technical issues with computer software between the Department of Land Management and the Department of Revenue and Taxation are hindering efforts to collect on property taxes.
According to DLM Director Michael Borja, the agencies signed a memorandum of agreement two years ago promising to collate data on real property information.
DLM generates property identification numbers that are supposed to be issued to Rev and Tax so the agency can identify ownership, property descriptions and other information, Borja added.
However, as Speaker Benjamin Cruz noted Tuesday during a budget hearing for DLM, there are major gaps in information.
A draft audit report from the Office of Public Accountability showed $40.8 million in real estate taxes were deemed "lost revenues" because the government of Guam failed to collect delinquent taxes and decided to forgo collections for half of the amount.
Of that amount, $19.5 million in real estate taxes were not collected over four years, through the 2016 tax year.
'John Doe' properties
Moreover, the audit references "John Doe" properties on Guam, meaning Rev and Tax doesn't know who owns these parcels, so the department doesn't know where to send the tax bill.
"How are we going to address that?" Cruz told Borja during the hearing. "It's unconscionable. As you know, its going to be coming out later this week, thousands of John Doe owners that we can't send bills to."
Borja said he is aware of the issue and has had "intimate discussions" with the OPA for the upcoming audit, which becomes final once management responds to the findings.
DLM also has been having ongoing discussions with its software provider about gaps in its usability. There is still a glitch in the system that has been identified but remains uncorrected today, Borja added.
'Trying to work at it'
The agreement with Rev and Tax developed out of the need to assemble certain tax and property information in light of unproductive discussions with the software provider, Borja said.
"But it's not perfect and it hasn't resulted in exactly the best product to date, although we had been trying to work at it," Borja added.
DLM had been trying for four years to iron out the cost for updates that will allow the department's software to interface with Rev and Tax's software.
"The software is proprietary and that's the problem that we've had. … So you're at the mercy of the software provider," Borja said.
He estimates that it may require $60,000 to $100,000 annually to pay for software that could provide the functionality DLM desires.
Cruz, however, said he required a solid basis – possibly written notice from a vendor – so that he could work that need into GovGuam's budget priorities.
source:-postguam.